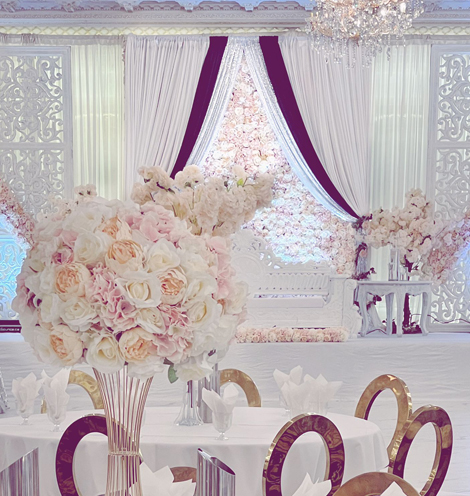 Empire Banquet Hall can provide both vendor and in-house hall décor to make your event exactly what you want it to be, both thematically and aesthetically. Our hall décor options come in a larger variety, including options such as:
Backdrops
Stage Cover and Curtains
Centrepieces
Additional Floral Decorations
Head Table Décor
Table Cloths
Table & Reservation Cards
Seating Chart
Cake Table
Water Panels
Media/Flower Walls
Flooring Décor
A part from the listed décor options, any additional requested options are available upon request. Empire Banquet Hall aims to get you every décor option you wish for. Whether it's in-house or through a trusted vendor, we will find the right décor for you and make your event as beautiful and eye-popping as can be. At Empire Banquet Hall we understand getting the right vibe and style to make your event standout from the rest.